by Andrew Jones
Britain's educational authorities also failed to note the underlying message of the Teacher Handbook: that jihadist violence is justified when committed by those who believe themselves to be victims. This is a crucial point: it accepts at face value what might only be many Muslims' perception of "victimhood."

Despite the Teacher Handbook's questionable attempts to align Islam with secular, Western principles such as human rights, fundamental British values are undermined by the very content of theTeacher Handbook.

No amount of Western appeasement can counter jihad, which is, as openly admitted, a global expansionist project.

Many religious texts have violent verses, but in Islam people still liveby them.
Mogra's statements, however, call into question his supposed enthusiasm for inter-faith dialogue.
In self-defence ("Those who have been attacked are permitted to take up arms because they have been wronged");
As a last resort (i.e. all other ways of trying to solve the dispute have been tried);
To preserve Islam or to enable Muslims to freely practice their faith;
To protect the oppressed (i.e. if a tyrant is ruling a country).
Herein lies the crux of the matter. Behind Mogra's softly spoken rhetoric of inter-faith dialogue, there seems to lie a faint but clearly discernible threat of violence -- a potential menace made all the more real by the company he keeps.
"...[M]any Muslims feel they are the targets of a sinister agenda, and that there is a commitment on the part of big news corporations to demonise them at any opportunity. Everyone knows there are bad Muslims, but there are also bad Jews, Buddhists and atheists, whose fanaticism and violence do not seem to be as newsworthy. A lot of Muslims argue how this proves conclusively that there is institutional prejudice against Islam, and explains why there is distrust in Western journalism especially. Sometimes it is difficult to establish which 'news' items are even true...[He continues later in the section:]
"As the role of the RE [Religious Education] teacher requires both an appreciation and appraisal of religions, it is important to redress the imbalance of constant negativity about Islam and Muslims in the media."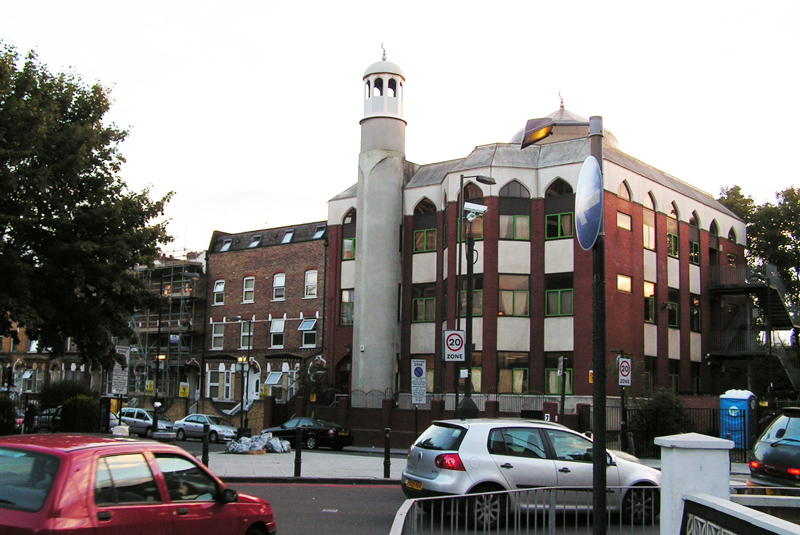 The Finsbury Park mosque, in London, England. (Image source: Olof Lagerkvist/Wikimedia Commons)
"Your democratically elected governments continuously perpetuate atrocities against my people all over the world. And your support of them makes you directly responsible, just as I am directly responsible for protecting and avenging my Muslim brothers and sisters." [Emphasis added]
"Democracy" is undermined by sanctioning "lesser jihad," instead of settling disputes at the ballot box.
"Rule of law" is undermined, for instance, by asserting Sharia (Islamic) law's position on polygamy in the face of its prohibition by the UK legal system.
"Individual liberty" is undermined, for instance, by uncritical reference to the Qur'an's endorsement of slavery (24:30-31).
"Mutual respect" for different faiths and beliefs is undermined by teachings such as: "To worship other gods or idols [...] instead of Allah is the main sin of Islam...Thus, all polytheistic faiths and also the Christian idea of the Trinity are rejected."
"Unlimited tolerance must lead to the disappearance of tolerance. If we extend unlimited tolerance even to those who are intolerant, if we are not prepared to defend a tolerant society against the onslaught of the intolerant, then the tolerant will be destroyed, and tolerance with them... We should therefore claim, in the name of tolerance, the right not to tolerate the intolerant."
---
https://www.gatestoneinstitute.org/12136/britain-teachers-extremism